Economic Calendar
Forex Simulator comes with a built-in economic calendar feature. It shows most important economic events (news releases) during the simulation. You can also display them as vertical lines on your charts.
Downloading/Updating Economic News
You should download economic news in Data Center before you can use them in simulations. All you need to do is to click Download in the bottom section of Data Center.
Downloading should take just a few seconds. The source of data is Forex Factory and their data starts from 2007.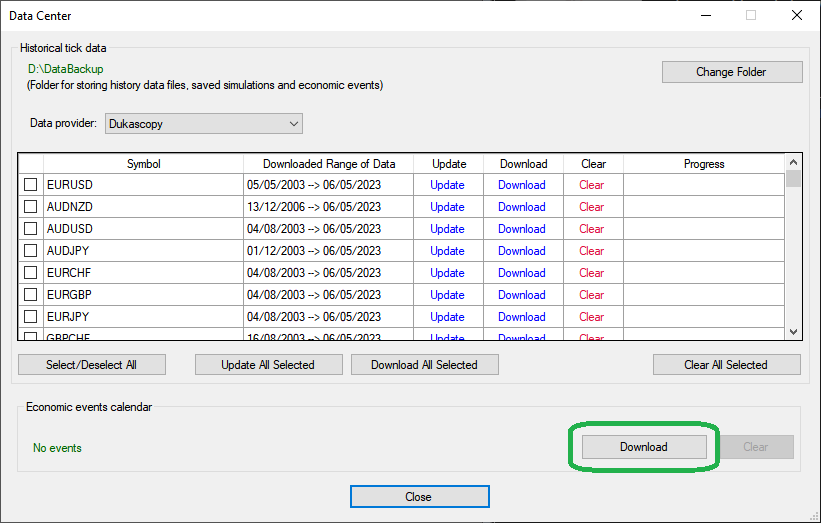 Updating
As time goes on, more and more new data will become available. You can update your economic news data using Update button.
New data should be available every day.
It is a good habit to update news every time you update any data in Data Center.

Economic News Window
You can open and close Economic News window using News button in main window.
The window shows you the list of upcoming news releases. You can also see up to 100 past events if you want. The number of events visible on the list can be changed in Past events and Future events fields.
The list is updated automatically as the simulation moves forward. Past events are shown in gray while colors of future events depend on their impact on the market (High, Medium or Low). The first event to come is highlighted in green.
You can also use filters in the bottom part of the window to limit displayed events by their impact on the market or related currency. For example, you may choose to show only High Impact news related to EUR/USD pair.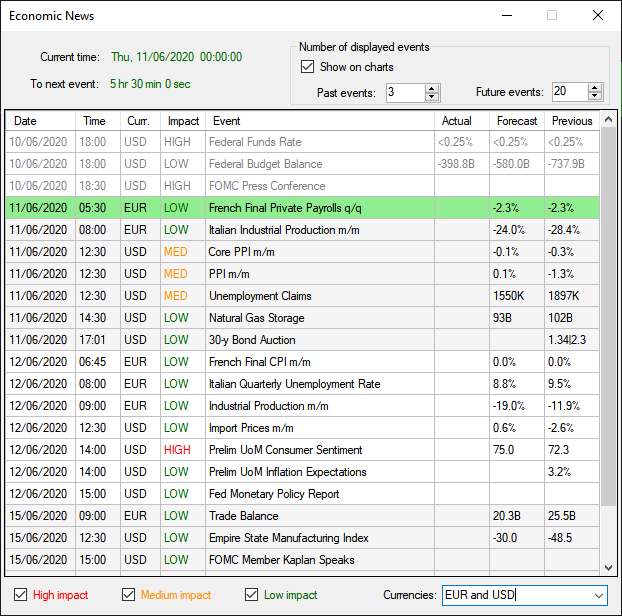 Showing News on Charts
To show economic news on charts you should do 2 things:
Enable Show on charts checkbox in Economic News window. This checkbox works globally for all charts.
Enable News button in Control box in the corner of the chart. This button works locally only for current chart. It lets you show or hide news on selected charts.
News are displayed in form of vertical lines, as shown in the picture below. Line colors correspond to Impact column in Economic News window.
All filters set in this window will also immediately work on charts so you will see only the lines that you want to see.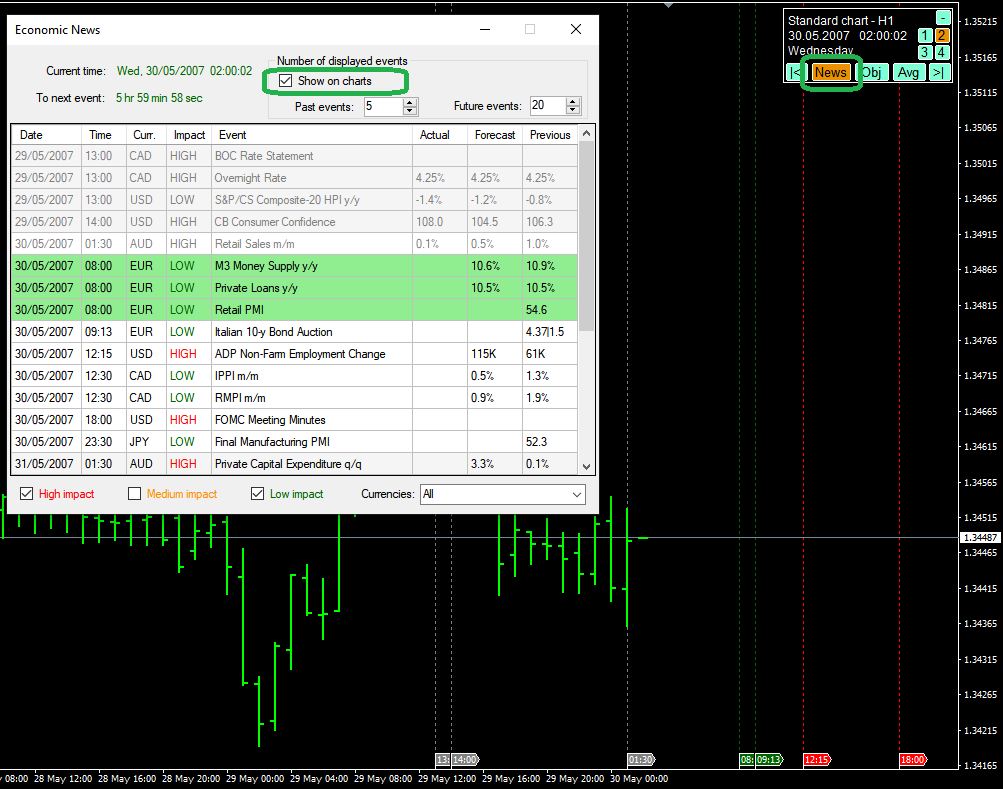 Limitations
Economic calendar starts from 2007. It is not possible to use it before 2007.
Economic calendar doesn't work when using broker's data. It works only when choosing Dukascopy, TrueFX or HistData as data provider.
Economic news can be displayed only on time-based charts. They can't be shown on the following types of charts:

❌ Renko chart
❌ Range chart
❌ Tick chart
❌ Weekly chart
❌ Monthly chart